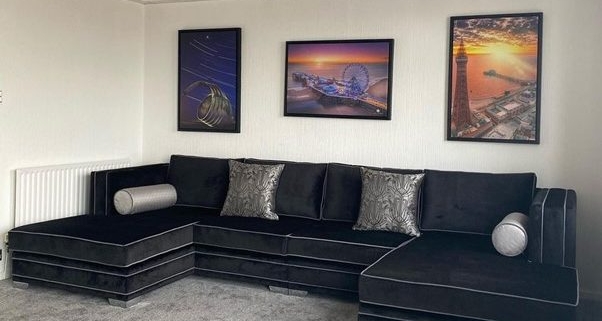 How to Create a Peaceful Living Space
Your living room is one of the most important rooms within your home. It's the space you enjoy spending time with your loved ones and relaxing after a long day. No matter what the occasions is, whether it's a birthday or celebration, the living room is perfect room for hosting.
There are a plethora of design options when it comes to your living room. From soothing colour palettes to balanced statement pieces, every living room is different. Take a look at our tips on how you can create a peaceful living space.
Brighten Your Space
Natural light works wonders for any room, brightening up the space which also lifts your mood. You can also incorporate this into your décor and style choices; try switching dark wallpaper for lighter, brighter styles, or replacing heavy curtains with calming and subtle blinds.
Little changes such as using warm white LEDs lights can create a zen ambience. Even when the dawn comes, you can still achieve a warm and welcoming glow throughout your home.
Calming Tones
To create a calming décor, elevate your space with beautiful warm tones. Pale blues, earth greens, pristine whites and soft yellows are ideal base colours for a peaceful living room. Avoid busy artwork and hugely bold patterns as this can take away the calming and peaceful effect the colours have created within your space.
Symmetry is Key
Balanced décor is highly satisfying to the eye. It creates a clean and calming space you can easily relax in and enjoy. To achieve this, declutter and reduce the number of items in your living room that could contribute to an overall 'messy' décor.
After you've tidied up the space, the next step is to ensure a symmetrical room. You can achieve this by bordering your sofa with an armchair either side or flanking that bare shelving unit with candlesticks. There are no boundaries with this, simply stick to what feels right for you and your home.
Here at SB Bespoke Upholstery, we aim to provide you with the best bespoke furniture and upholstery within the North West. Our qualified experts are on hand to make your creativity and imagination come to life with quality bespoke products.
Our aim is to design and create furniture to fit perfectly in your beautiful homes. You can arrange a free home consultation where we create and design your dreams to your personal needs and specifications.
If you would like to find out more about our professional services and how we can help you, get in touch with our friendly team of experts today.
http://wp.freedomofcreation.co.uk/bespokeupholstery/wp-content/uploads/sites/267/2021/01/Picture1-13-602x400-1.jpg
400
602
jntheprestonhub
http://wp.freedomofcreation.co.uk/bespokeupholstery/wp-content/uploads/sites/267/2020/08/StephenBarkerlogo.png
jntheprestonhub
2021-01-19 20:22:25
2021-01-19 20:22:25
How to Create a Peaceful Living Space